New Short Story!
My story, "Fighting Sleep," is in the anthology, A Haunting of Words, published by Scout Media.
What's it About?
It's about an evil crib that wants to kill a newborn girl. The only one in the family who can see it for what it really is and who has a chance of stopping it is the baby's four-year-old brother.
I made a "cover" for it: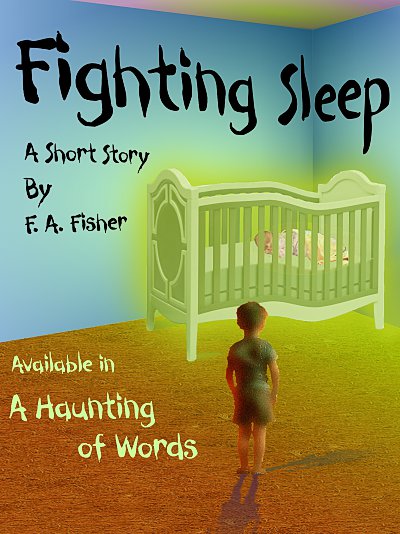 And here's a peek into the story:
Ross woke in the night, alone in his room. The evil smell of the crib had reached to where he slept.
He climbed out of his bed and went again to the nursery. The door had almost closed—it did that on its own—but he pushed it open and peeked in.
The crib still sat against the far wall. He took a few hesitant steps into the room. In the moonlight, the crib cast shadows on the wall like the bars of a dungeon.
Ross knew what caused shadows; they didn't frighten him. What made his heart trip and his breath wheeze like a dying man's was the crib itself, revealed now in the semi-darkness: the ends of it, their outlines curved like broad-shouldered ghosts; the spindly legs, like human bones; but most of all the white slats in the side, like long teeth, revealed in a ghastly smile that said, "I see you. I know you're there. And I'm very, very hungry."

---
A Haunting of Words can be purchaed from Amazon, here, or directly from the publisher, Scout Media, here.
And don't forget to sign up for my newsletter!  You'll get notices about upcoming books, occasional news about what I'm working on, and (I promise!) no other junk or spam. 
---
This site uses icons from "Kingdom Icons" by Mihaiciuc Bogdan.